Freelander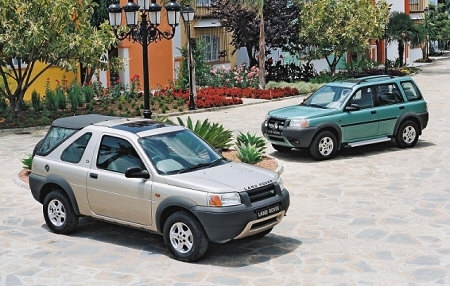 Introduced in 1997, the Freelander marked a significant change in marketing and construction for Land Rover. Land Rover had a range of products covering the utility, luxury, and family 4x4 markets; but by the mid-1990s it was beginning to lose out to the small 4x4s (SUVs) such as the Toyota RAV4 and the Honda CRV.
Rumours and the occasional photograph of the CB40 project had been circulating for a couple of years. Photos looked like the CRV, and rumours spoke of features such as a monocoque body and independent strut suspension - features that should be on a car and not a 'proper' Land Rover! The skeptics need not have feared though. Although the Freelander does not have the off-road ability of a Defender, it is surprisingly capable and easily outperforms the RAV4 and CRV.
The Freelander's body and suspension do indeed depart from standard Land Rover practice. Rather than the ladder chassis design that has been used ever since the Series 1, the Freelander is designed with a monocoque body construction like that on modern cars. Unlike these cars though, the body has a substantial sub-frame including welded box-section rails. This gives the body a high structural rigidity, keeping the body 'square' and adding the strength to survive repeated snatch recoveries. This rigidity also ensures that all five doors will open without catching - even if the vehicle is severely cross-axled.
The Freelander also lacks a low range gearbox and a differential lock ("diff lock"). This is not as serious as it might sound at first, due to the introduction of the innovative Hill Descent Control (HDC). At the press of a button, HDC pulses the brakes to maintain a target speed of about 5mph in a process reminiscent of ABS. This greatly enhances the Freelander's off-road abilities, and does away with the need for a low range gear to descend steep hills. The HDC has been a big success, and has since been introduced on other Land Rover models and copied by competing SUVs.
A Viscous Coupling Unit (VCU) is fitted to give the Freelander its all wheel drive ability. Rather than the on/off functionality of a traditional diff lock, the VCU works progressively. If a front wheel begins to spin, then torque is sent to the rear wheels where it is useful (and vice versa).
The beam suspension is replaced by independent suspension. This results in a reduction in ground clearance when off-road, but it also results in a much smoother ride. As with the rest of the Land Rover range, vulnerable components are lifted high out of harm's way. Skid plates also protect the fuel tank, engine, and transmission.
Initial body styles consisted of a 5-door Station Wagon, and a 3-door 'Sport' with soft-back or hard-back rear roofs. Petrol and diesel engine options were also available.
The Freelander quickly became a big success in Europe. Sales grew from 47,000 its first full year (1998) to 70,000 in 1999. The Freelander is now Europe's biggest selling 4x4, and sales figures continue to grow. This performance has contributed greatly to Land Rover's overall growth, and Freelanders are responsible for doubling the throughput of many UK dealers.
In 2001, larger V6 and Td4 engine options were added, as well as a 5-speed automatic gearbox. These options were designed to appeal to existing owners who wanted something more powerful, but did not want to buy a Discovery. 2001 also marked the entry of the Freelander to the North American market.
Acknowledgements
Freelander Photograph: © Land Rover.