Minerva Land Rovers
After World War 2, the Belgian company of Minerva began building vehicles under license. In 1951, the Belgian Army was searching for a new lightweight 4x4, so Minerva approached Rover to produce their Series 1 under license. Competing against Willys, Rover / Minerva won the contract.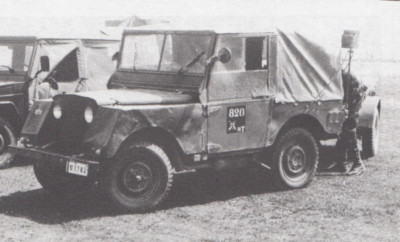 Under the arrangement, Rover provided full technical assistance and Completely Knocked Down (CKD) kits consisting of a chassis, engine, and transmission. Minerva would then build a steel body that met the requirements of the Belgian Army. Minerva lacked the ability to produce the curved wings, so Minerva vehicles have a distinctive sloping wing shape.
Later vehicles used frames built by Minerva. These were box welded and lacked the PTO holes.
There is some evidence that the Belgian Army stockpiled vehicles, and was still releasing "new" Minervas into regular service in the 1980s.
For a short time, Minerva also produced a version of the 86" Series 1. This was primarily for the civilian market, although photographs do exist of military 86" Minervas.
All contracts between Minerva and Land Rover were terminated in 1956 after a contract dispute. Although Minerva won the resulting legal action, they quickly experienced financial difficulties with reduced production and went out of business in 1958.