Santana Land Rovers
In 1956, Santana Motor SA of Spain entered into a license agreement with Rover to produce Land Rovers under license. This was a similar agreement to the Minerva licensing agreement. Production began in 1958 with the construction of CKD (completely knocked down) kits exported from Solihull.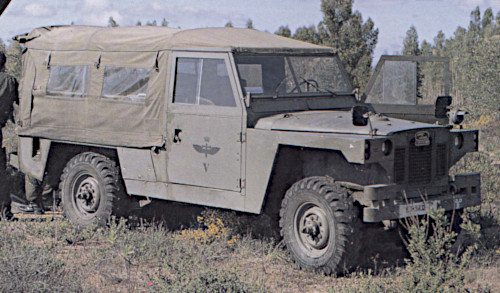 In 1968, Santana began to develop its own versions to be sold in Iberia, Central and South America, and Africa. This was in close co-operation with Land Rover and included new engines and models. Because of the harsh working lives that many of these export vehicles experienced, Santana had a better understanding of the weaknesses than Land Rover itself did. Many of these modifications attempted to address these issues.
By the 1980s, the Santana equivalents of the Series 3 vehicles featured anatomical seats, disc brakes, turbo diesel engines, taper-leaf springs, coil springs, and a civilian Forward Control vehicle.
Santana ended its agreement with Land Rover in 1983, but continued to produce vehicles that visually resembled the Land Rover Series vehicles into the early 1990s.
Pictured is a Spanish "Militar". The Militar can be best described as the Santana equivalent of a long wheelbase Lightweight. A more conventional short wheelbase version was produced under the "Ligero" name.
After the Land Rover agreement lapsed, Santana started to build Suzuki vehicles under license. Suzuki even owned part of Santana for a number of years. In 2009, Santana switched industrial partner from Suzuki to Fiat-Iveco. Iveco sales were never enough to make up for the loss of the sizable Suzuki distribution network, and Santana closed its doors in 2011.