This page describes Land Rover vehicles that have been adapted for military use. The military-only Lightweight SIIA & SIII and 101" Forward Control vehicles have their own pages.
During World War 2, Willys Jeeps and Chevrolet trucks were used very successfully by the British Army both as a part of the regular forces and for use in long range special operations missions. The British Government realised, albeit very slowly, that it needed its own vehicle to meet these needs. The project became known as 'FV1800' and saw its first Nuffield-built prototype running in 1945. Government regulations and repeated modifications extended development over many years, and the vehicle did not enter production until the early 1950s. By that time, Nuffield had merged with Austin and the resulting vehicle became known as the Austin Champ. The development contract committed the British Armed Forces to a large order. In parallel to this order, the British Army purchased a trial batch of Series I Land Rovers in 1949. The earliest Land Rovers were found to complement the Austin Champ very well. The Land Rover was cheaper, lighter, consumed less fuel; and was ideal for behind-the-lines transport duties. However, the Champ was better suited as a front line combat vehicle.
Over time the Land Rover was modified, and became better suited to the British Army's needs. The initial contract order of Champs was never expanded and production ceased after only five years. In contrast, Britain's armed forces continued to buy Land Rovers. The British Army had also introduced armoured personnel carriers, reducing the need of a front-line light 4x4.
The Land Rover became an ideal platform for development by the military. This page lists a selection of famous or common military variants and prototypes. Land Rover was also able to provide two military-only models in the form of the larger 101" Forward Control and the airportable Lightweight.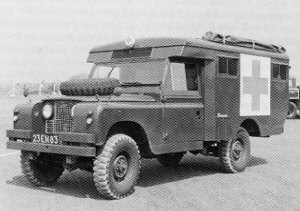 SIIA Ambulance
This ambulance was a classic design that has been associated with the British Army during much of the Cold War era. Based on the Series IIA 109" vehicle, it has an ambulance body built by Marshalls of Cambridge. Designed for evacuation of forward areas, the ambulance can carry four stretchers and a medic.
Today, the British Army uses a 130-based vehicle with a similar ambulance body, to produce a vehicle that externally looks similar but is larger and much more comfortable.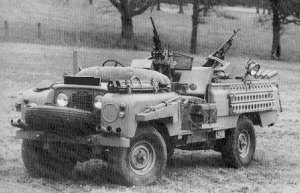 SIIA 'Pink Panther'
Approximately a hundred Series IIA 109"s were adapted by the SAS for desert use. These vehicles were designed for long distance reconnaissance and special operation missions. Although the SIIA version is the most famous, similar vehicles based on the Series 3 109" and 110 vehicles have also been used. The US Rangers currently use a 110-based vehicle for a similar role.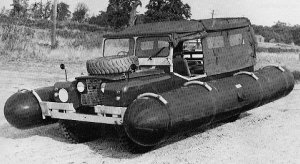 Amphibious SIIA 109"
Fifty of these prototypes were built for use in sea landings. The Ministry of Defence cancelled the original requirement, and the prototype was not developed any further.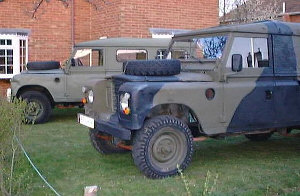 SIII 109" GS and FFR Vehicles
These are included here as representatives of 'standard' military General Service ('GS') vehicles. The two examples in the picture are actually Fitted For Radio (FFR) vehicles, which are fitted with 24-volt electrical systems and radio interference shielding. Externally they look identical, although when they were in service, they would have been fitted with a variety of antennae including the Larkspur system. With the exception of the 24-volt option, these vehicles were essentially the same as the civilian 109"s but included most of the available heavy duty options including dual braking, rear Salisbury axle, and an oil cooler. Included on this site, is an extract from the Ministry of Defence's (MOD) User Handbook for the Series III 109" (3/4 ton) Land Rover.
Series III 109" vehicles served with the British Army from the early 1970s through to the mid/late 1990s when the remaining vehicles were replaced with Defender-based 'Wolf' vehicles.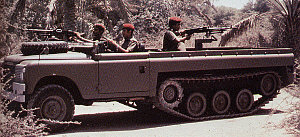 V8 Centaur Multi-Role Half-Track
This half-track vehicle was based on the V8 Stage 1 vehicle, and incorporates tracks from the Scorpion light tank. This attempt to marry a good road vehicle with a good track system works surprisingly well, and has served with a number of armed forces including those of Oman.
Acknowledgements and Image Copyright
Black&white and Centaur Half-Track Photographs: © Land Rover.
Photograph of two 109" FFRs: © Richard Marsden.
The main Land Rovers Page can be found here.
Do NOT deep-link directly to individual images on this page: it will NOT work!
Instead, you are welcome to link to this web page. This WILL work.

Rich's Home Page&nbsp&nbsp Winwaed Software Technology&nbsp&nbsp Contact Page
© Copyright 1996-2012, Richard Marsden