Projects
We have worked on a number of projects covering a range of different subject areas. Most are proprietary projects, but here are a selection of non-proprietary projects that we have worked on:
Caliper® Maptitude® Projects
Winwaed Software Technology LLC are regularly contracted to write custom Caliper Maptitude based programs and utilities. These take a variety of forms, but typically involve batch mileage computation, batch data processing, geospatial data processing or data plotting.
Although Microsoft have now discontinued their MapPoint product, we continue to be asked to write or maintain similar MapPoint add-ins and utilities.
For further details of our Maptitude and MapPoint products and services, see our Maptitude-dedicated Mapping-Tools.com website.
EcoMapCostaRica.com
The EcoMapCostaRica.com website was created in support of an ecological study of reforestation sites by the Department of Biology at the University of Dallas Biology Department. The field work has been performed by University of Dallas students as a part of their Field Ecology class over a number of years. Field sites are on the Leaves and Lizards Arenal Volcano Cabin Retreat in Costa Rica, and monitor the recovery of the forest and associated ecosystem. This site documents field seasons from 2008 to date, including panoramic photographs and interactive maps of field data. A panoramic photograph viewer/comparer was created in Silverlight to allow locations to be compared between years. The reforestation project only started in 2007, so this allows a rare possibility to chart rainforest recovery from the very beginning.
As well as providing an outlet for information from the project, the project hosted blogs for students and educators. It also incorporates interactive maps of the field data. Maps have been produced using Bing Maps; UMN MapServer & OpenLayers; and Google Earth v3. KML is used extensively to store map annotation.
Winwaed Software Technology LLC also managed the panoramic photograph and map surveying aspects of the of the project.
The Dallas Wetlands Project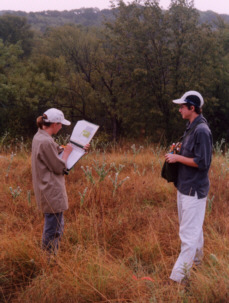 The Dallas Wetlands Project grew out of a project for Dr. Margaret Brown, who required a quick way for students to process data in her labs for the University of Dallas Undergraduate Environmental Science class. The initial project was for a small inference engine which processed student field data to determine if a field location constituted a wetland or not. The inference engine encoded a subset of the Corps of Engineers Wetlands Delineation Manual (Technical Report Y-87-1), using Visual C++ and MFC. The resulting data was in a simple text format that could be imported into a spreadsheet such as Microsoft Excel. Geospatial displays were produced using the Gistix Toolkit. Pre-dating Google Maps and Microsoft Virtual Earth, and interactive online map was created using an early version of SVG (Scalable Vector Graphics).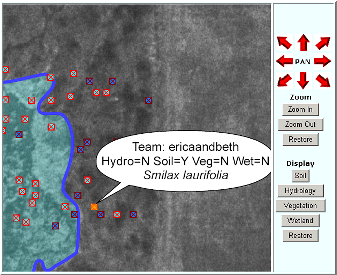 An updated system was created for the Fall 2008 class that uses an updated system based on PHP, MySQL, and final display using Bing Maps. This new version also allows the students to directly add or edit their data through a web interface.