Caliper Maptitude Products and Services
Winwaed Software Technology LLC can supply a range of different products and services for Caliper® Maptitude®;, including our own range of tools and add-ins. Our full range of Caliper Maptitude products can be found on the dedicated Mapping-Tools.com website. These include:

MPMileage calculates mileages for point-to-point routes specified in a database (Access, Excel, ODBC, or Maptitude data view) . This differs from MileCharter which computes mileage charts and tables. The Maptitude version adds support for Maptitude data view tables, and speeds for Maptitude's numerous road types.
See the MPMileage website for further details and a free trial download.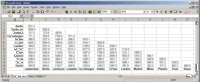 Our popular MileCharter product is now available for Maptitude. This is designed to batch-calculate mileage tables, and the output can be in the form of distances, travel times, and/or cost estimates. All of Caliper Maptitude's routing options are supported, and Maptitude Selection Sets can also be used for the source and/or destination locations. MileCharter can also report only the closest destinations, or those that are within a specific distance or travel time.
See the MileCharter website for further details and a free trial download.

Our cluster analysis tool is also available for Maptitude. It allows you to find clusters (i.e. natural groupings) of pushpins. Clusters can be drawn as annotation on the map and/or exported to Microsoft Excel. Options include the ability to set the size and number of clusters. The Maptitude version adds a second algorithm (Hierarchical in addition to K-Means) and the ability to write directly to data layers and/or joined views. Possible applications include:
Finding territories for sales representatives
Identifying locations for new sales offices
Helping to identify patterns in sales data or incident reports
See the MPCluster website for further details and a free trial download.